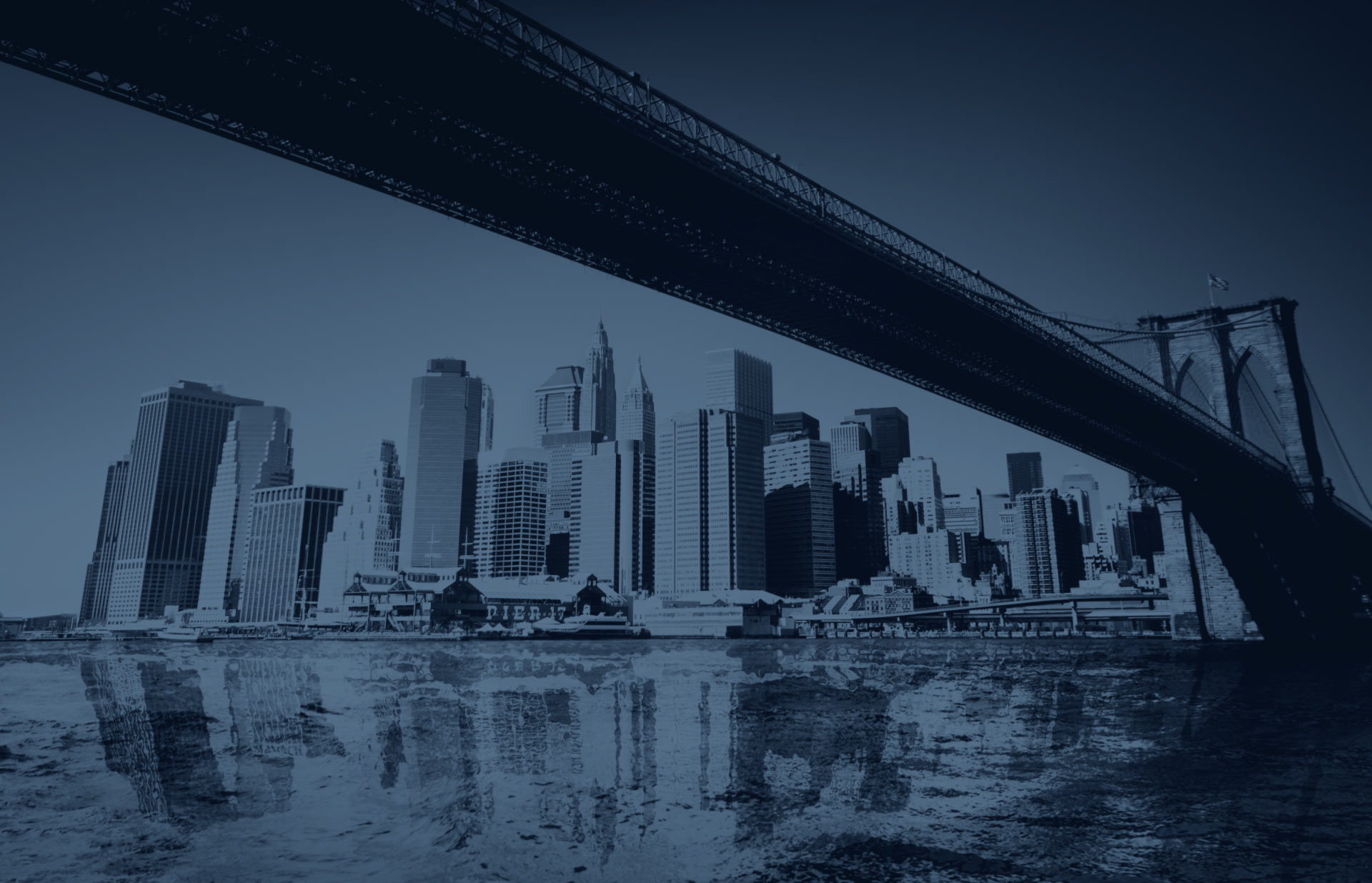 Make better investment decisions with Osparna
Decision Intelligence for Investors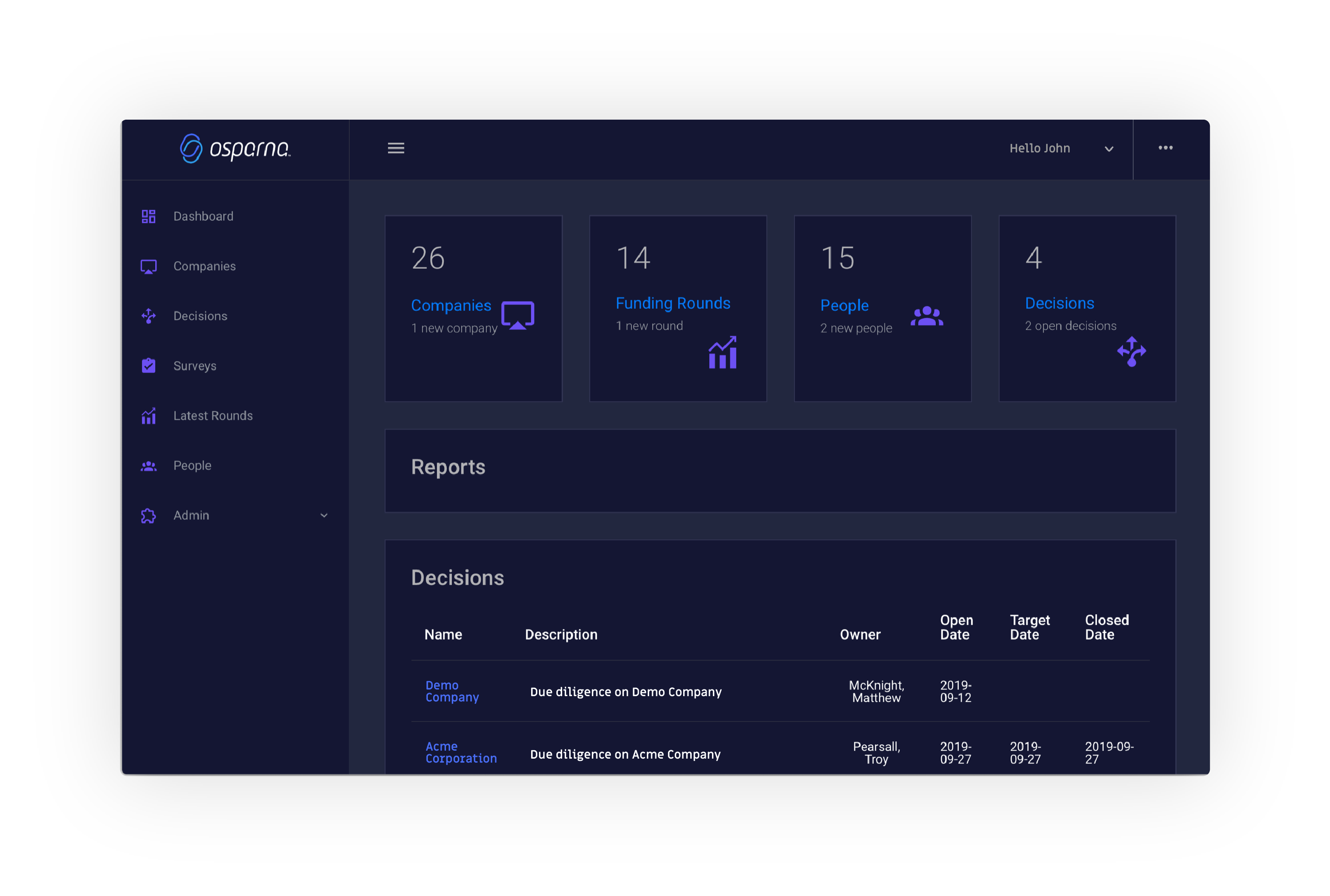 Osparna's platform, enhanced by our proprietary data, guides the investment process so that you can make better decisions faster. Investment analysis and evaluation is done in one place. Your team stays on the same page because everyone knows the investment criteria for a specific deal.
DUE DILIGENCE
Engage Osparna to conduct technical due diligence on your behalf. Our analysts will evaluate the company's product, process and team freeing your time to focus on deal terms.
SURVEYS AND QUESTIONNAIRES
Engage with current and potential portfolio companies through surveys and questionnaires. Request routine information, stay in touch with the companies in which you've invested.
DATA IS THE FOUNDATION
Decisions are made by evaluating available data. Osparna makes it easy for you to document your knowledge about an industry, your investment thesis and goals for the transaction.
BIAS IDENTIFICATION
Every investor has developed "pattern recognition". The question is, does yours serve you well? Could you improve outcomes by moderating some beliefs? With Osparna you make investment criteria explicit and determine their importance for each decision.
COMPETITIVE INTELLIGENCE
Learn about companies that have recently been funded.  Expand the breadth of your competitive analysis when evaluating a potential investment opportunity.
PORTFOLIO ANALYSIS
Are your investments meeting the goals established when the decision was made? Are they under performing their peers? Out performing them? Are the relationships you expected to make coming together?
Engage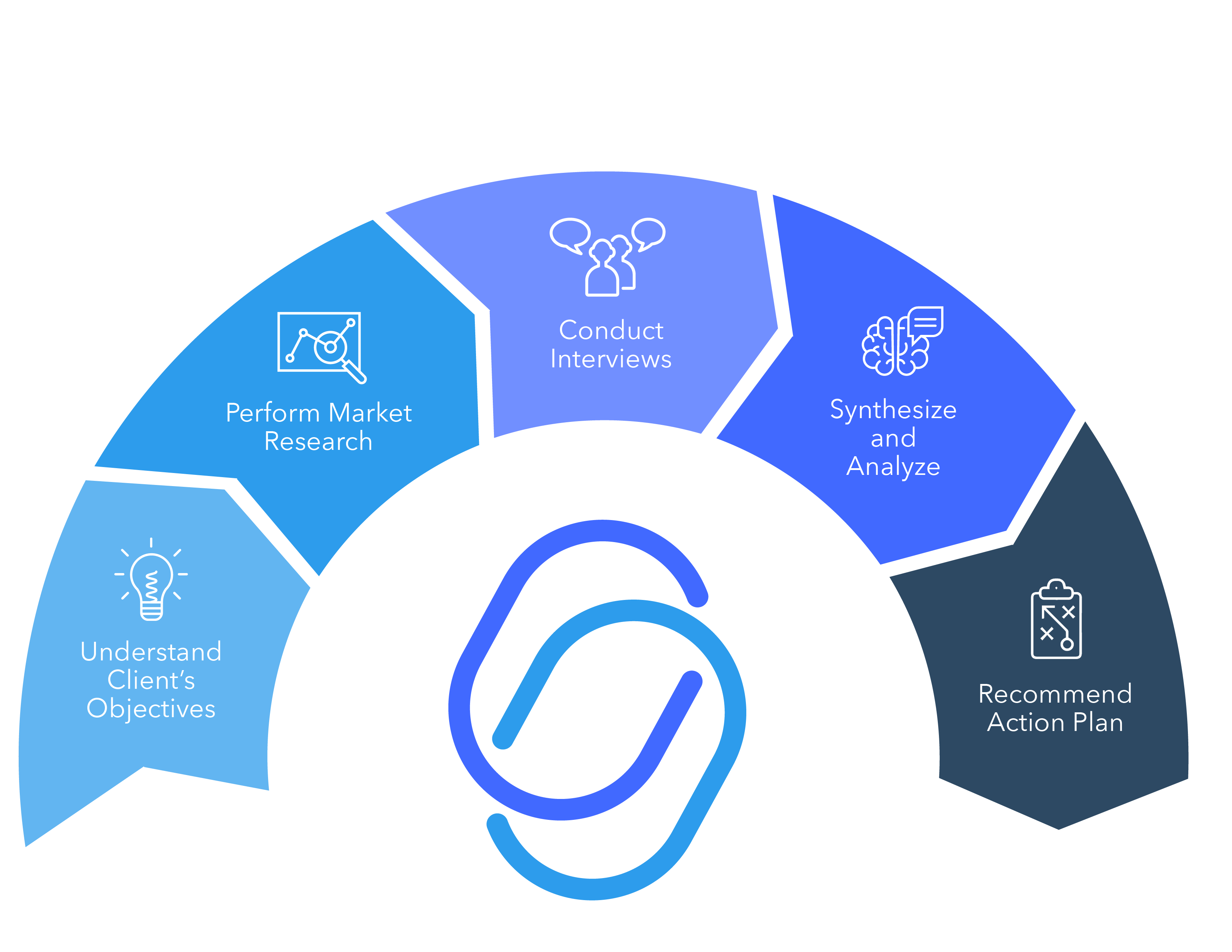 UNDERSTAND THE CLIENT
Every engagement is unique, Osparna begins by understanding your objectives, questions and concerns. With this guidance, the goals of the engagement are set.
RESEARCH THE MARKET
Market Research is core to an engagement, providing context at each step.  This phase provides Osparna, and the client, with an understanding of the competitive landscape, technical approaches and market.
MEET THE TEAM
There is no substitute for meeting with the people driving a company's strategy and future growth. During an engagement, Osparna typically meets with Executive Leadership, Engineering Leadership and key personnel.
SYNTHESIZE AND ANALYZE
Having understood your objectives, the market, and met the team, Osparna synthesizes its findings into an analysis of the current situation, potentially identifying gaps in the product, technology, or team. Risks toward achieving the desired future state are identified.
Next Steps
During the engagement Osparna continuously updates you. At the end of the engagement Osparna details its findings, focusing on risks and providing recommendations on how to proceed.  Osparna is available to meet with the you, discuss the written report, and provide additional insight.
Areas of Practice
Technical Due Diligence
Technology Team Assessment
Merger and Acquisition Diligence
Divestiture Analysis
Market Surveys
Competitive Intelligence
Technical Expertise
AI/ML/Deep Learning
Analytics
Enterprise Software
GIS/Imagery Analysis
Cybersecurity
Renewable Energy
Internet of Things
Sensors
eCommerce
Marketing Analytics
Osparna (os-par-naw') – Thoroughly; With (all) diligence
Team
Troy M. Pearsall
Prior to co-founding Osparna, Troy was most recently CIO of IQT where he oversaw the development of their due diligence platforms.  During his tenure at IQT, Troy served in various executive roles responsible for IQT's technology diligence and evaluation process.
Previously, he led the Business Intelligence and Analytics team at GSI Commerce, Inc. Troy has held a variety of leadership and technical roles in the software, defense contracting, and strategic communications industries.
Matt McKnight
Prior to co-founding Osparna, Matt was President of LMN Solutions, a defense contractor, growing it from $0 to $20M in annual revenue in 7 years. While at LMN, Matt developed the initial version of IQT's due diligence platform.
Matt's current focus is in the areas of imagery analysis, scalable data analytics, cybersecurity, and machine learning.
Linnet States
Prior to co-founding Osparna, Linnet served as the product lead for the internal due diligence platform at IQT and as the principal developer for IQT's investment workflow automation tool.
Prior to IQT, Linnet led and supported programs for the NSA and DoD.  During that time, she was a Software Engineer at Technology Management Associates, an Associate at Booz Allen Hamilton and a Senior Systems Analyst at Lockheed Martin
Carl Fyffe
Carl joined Osparna in 2018. Prior to joining Osparna, Carl was an early member of several startups. He has been instrumental in guiding more than five products from conception to launch.
Carl has been the engineering lead for multiple teams and integral to cross team communication to ensure the goals of the organization are met. Carl's career has been focused on developing systems in analytics, decision support, and large scale data processing.
RESOLVE INVESTOR'S CONCERN REGARDING OUTSOURCED SOFTWARE DEVELOPMENT
Key Question: Private Equity firm engaged Osparna to determine if the Machine Learning (ML) based technology platform of a marketing analytics company offered a sustainable differentiated advantage.
Process: Osparna conducted three days of onsite interviews with the Co-CEO, COO, Chief Product Officer, Chief Science and Innovation Officer and VP of Product Strategy.
Question Answered: While there were initial reservations because the company outsourced software development, Osparna became comfortable because the core IP – the ML models – were created in-house.
Deliverables: Osparna's report, analysis debrief and access to Osparna's Platform.
Outcome: Based on Osparna's recommendation, the Private Equity firm tendered an offer to acquire the company.
POST-INVESTMENT GROWTH-ORIENTED TEAM ASSESSMENT
Key Question: Startup CEO closed a Series B investment at a significant step-up in valuation. The investment enabled a change in strategy, shifting its product focus to enterprise customers from their SMB customer base. Osparna was engaged to evaluate the team's ability to deliver an enterprise product.
Process: Osparna performed a SWOT analysis on the internal team over the course of multiple weeks. Osparna conducted interviews, reviewed software and system architecture and engaged key stakeholders on the executive team.
Question Answered: Osparna recommended that the Product Management and Product Development functions be split and that the company supplement the Head of Product Development.
Deliverables: Osparna's report, analysis debrief and access to Osparna's Platform.
Outcome: CEO appointed a Head of Product Management.
MARKET ANALYSIS REVEALED BETTER COMPETITOR
Key Question: Investor was introduced to the CEO of a promising startup in the imagery analysis field. Investor engaged Osparna to get up to speed on the technological approaches and pitfalls. The Investor wanted to know if the target company was well positioned against emerging competitors.
Process: Osparna accompanied the Investor on a site visit to the company. Using information in its platform, and gleaned during the site visit, Osparna delivered a market survey, competitive analysis and assessment of the team to the Investor.
Question Answered: Osparna concluded that the company's technology was not market leading nor did it offer a long-term advantage over the competition.
Deliverables: Osparna's report, analysis debrief and access to Osparna's Platform.
Outcome: Because of the information provided by Osparna, the Investor decided not to complete the transaction.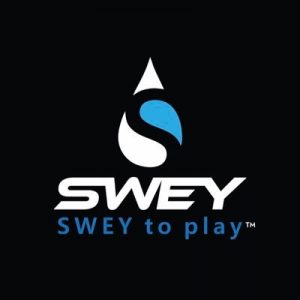 The Natural Gen Z sports drink. Made by Gen Z for Gen Z.