Buying a house is stressful in the best of circumstances. Buying a house in a distant, unknown area is a whole different level of stress. However, that is what my wife and I decided to do, but we did not make that decision lightly or without consideration. In fact, it was a very informed decision because I had a secret weapon that made decision making easier: the alpha version of Osparna's diligence application.
Today, Osparna helps you make better investment decisions by applying decision theory when evaluating potential investment opportunities. In the early days, the tool was sufficiently generic to allow you to use it to make any type of decisions. So, I used it to help me decide which house to buy. The process is the same whether you are buying a house or investing in a startup. Establish your criteria, give those criteria weights, rate your options, and review your results.
The first goal was just to get to Florida. The second goal was to buy a house. If we didn't find a house that was over the top best for us, then we were going to rent a place so we could extend our search. But ideally, we wanted to only move once. The search started in 2017. We took a couple of weekend trips to Florida to look at areas and find the neighborhoods that we wanted to live in, or more specifically, did not want to live in. We had our realtor show us a couple of houses in different areas and got a good feel for what was available.
The first thing I did was create a list of criteria for our perfect house:
Price had to be right, did not want to over pay, or under pay for that matter.
Must have a pool and hot tub, we were moving for Florida, why wouldn't you want a pool?
Must have office, I was planning to work from home.
Must have 5 bedrooms, we have 3 kids, two of them have steady significant others.
Must have 4 bathrooms, you would be surprised at the number of homes we looked at that had 5 bedrooms and 2 bathrooms. Mind boggling that people would buy that configuration. We lived through the "not-enough bathrooms scenario" in the past and had learned this lesson.
Must be in a gated community. This is less about security, because there really isn't any, and more about inconvenience for random people that are bored wandering around the amusement parks simply driving through your neighborhood.
Must be within 20-minutes driving distance to Disney World.
Simply listing the criteria and defining the scales is half the battle. Doing this made finding our right house 1000x easier because we now had a list of exactly what we wanted, and how to score each of the criteria. By defining the scales you are looking at where you are willing to compromise, and defining what is very important to you.
Next, we need to give each criteria a single quantifiable scale. Osparna uses a scale of 1 to 100 for each rating. You need to decide how to apply the rating to each criteria. This is an important step and it is best to note the scales in the description of the criteria. For example, the pool and hot tub requirement could simply be a yes or no. However, when you look at pool areas and hot tub areas you can clearly see that some are better than others. Be specific about the differences that cause a pool area to score a 1 or a 100. The scale that I came up with was this:
Score 1 if no pool or hot tub and no area to build one
Score 10 if no pool or hot tub but there is an area to build one
Score 20 for a hot tub but no pool
Score 50 for a pool and a hot tub
Score 70 for a pool, hot tub and greenery surrounding the area for privacy – this is basically the high score
Score 80 for a large pool and hot tub with greenery
Score 100 for a large pool, hot tub, with greenery and a pool house
After you have defined your scales, you need to decide which criteria is the most important to you. I personally like to make the weights add up to 100, and Osparna makes that easy by showing you how much total weight you have given. But the tool is flexible enough to work with any total weight and does all of the math for you. However, by giving yourself a limit, it forces you to choose which criteria are more important than others. If you have more than 7 criteria, you might be better off increasing your total weight to 200 or 1000. For our scenario above, we have 7 criteria. This will easily fit within a scale of 100.
Next we have to rate each of the options. Having defined the quantifiable scales earlier makes this much easier. You look at a house and give it a score for each criteria. At the end, our tool gives you a weighted score which will inform you which house you should purchase. Let me show you what this looks like in our application today.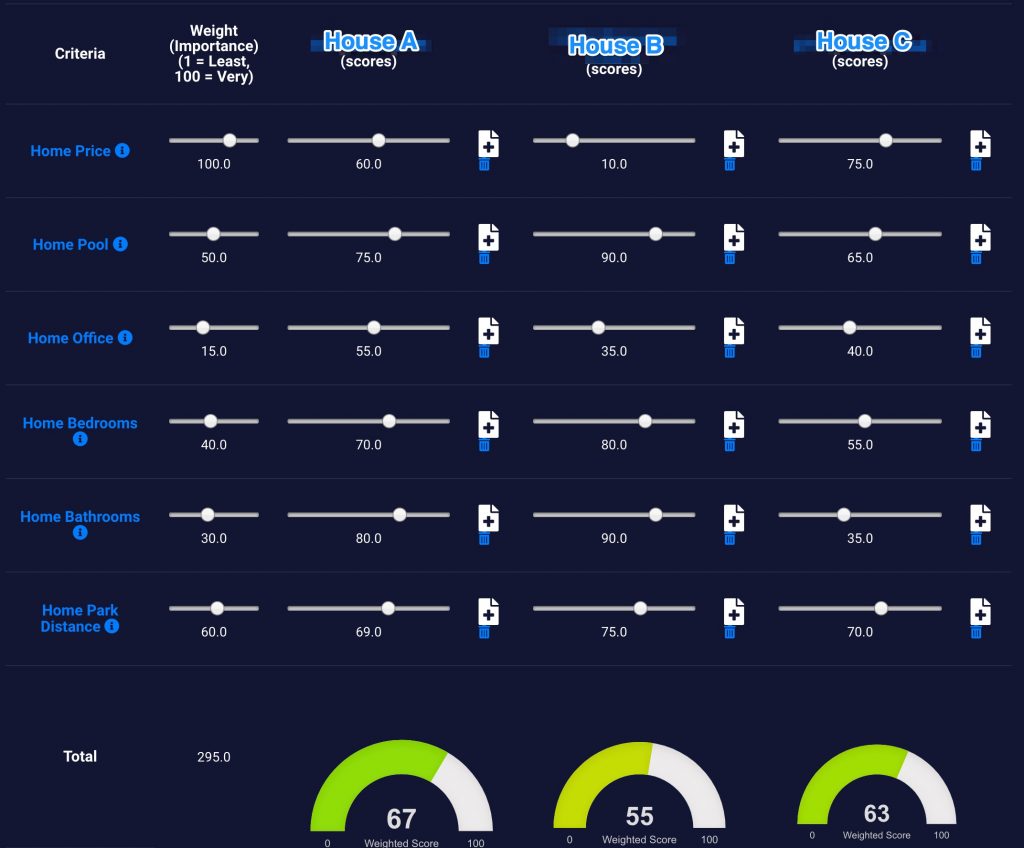 I blurred out the addresses of our three home options. House A was slightly above budget, but was a beautiful house that met all of our needs. House B was way above budget, but it absolutely deserved the price the sellers were asking. House C was below budget, but needed work.

As you can see, House A won out, although House C gave it a run for its money. House B's price was so high that all of the additions could not make up for it. We actually put an offer in on House C, but the selling realtor was playing games with the offer trying to change it in ways that did not make sense for our situation. So we kept looking. House A came on the market soon after which was at exactly the right time. We had been looking at houses for over a year. We knew exactly what we wanted. We jumped on it as quickly as possible. The sellers accepted our offer and took House A off the market.
The following week, two houses across the street went on the market, they sold quickly as well. The neighbors both came over and expressed that they wanted our house but we took it off the market faster than they could get their paperwork together. That was the benefit of knowing our scales and scores. We knew that House A was better than everything else on the market; using Osparna allowed us to act with confidence.
Osparna will allow you to do the same with your startup investment opportunities. Whether you are an Angel Investor, Institutional Investor or a Family Office, Osparna can help you ensure that you have the processes in place to make better investment decisions. Contact us to learn more.